Lha Clean Water Project Update
On March 20, 2013, the volunteers and staff of Lha were thrilled to install our fifth institutional size drinking water filtration unit at a Tibetan school located just a few hundred meters from our offices.  Since most of the students there are quite young, this installation will protect this very vulnerable population from serious water-borne disease during the upcoming monsoon.  Like all of the units used for this project, this one has the capability of producing one hundred liters of pure drinking water every hour.  A five hundred liter stainless steel storage tank is included in our installations to provide an emergency reserve in the event of water shortages or power outage.  Not only will this water be used for drinking, but also for the preparation of the children's meals, adding an additional layer of safety.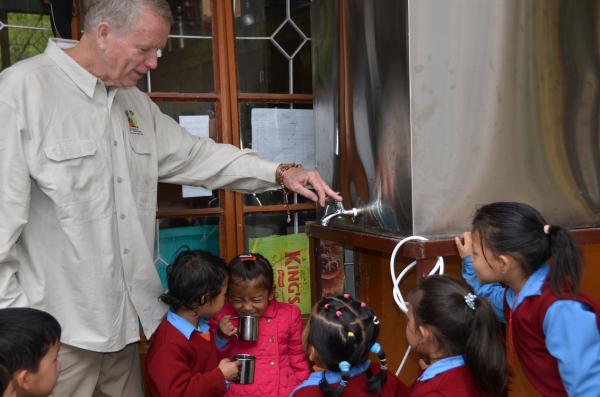 Four units were installed in the eighteen months after our project started in 2010 but then we lost momentum due to a funding shortfall.   In February we placed a renewed emphasis on completing the remainder of the project before the monsoon season begins this year.  Subsequently we successfully funded the fifth unit which was installed on March 20th at the Yongling School and Kindergarten.  That system will support over two hundred and fifty young students and staff as well as the numerous babies in daycare at the school.  We are extremely grateful to Mr. Luke Ding and his sister Ms. Mary Ding from the United Kingdom for their generous contribution to cover the entire cost of this particular installation.  They continue to show great compassion for our Tibetan refugee children as this is the second school filtration unit for which they have provided the entire cost of equipment and installation.
Another anonymous donor, in an attempt to "kick-start" fundraising for the project, has pledged to pay for half of two additional filtration units if we can find matching donations to pay for the other half by April 20, 2013.  We have several possible revenue streams for the project pending but are coming up against this deadline and we would hate to lose these pledged funds.  We are desperately seeking those matching funds immediately so we can make safe drinking water for our Tibetan refugee community a reality.  Your immediate support is respectfully requested.
We also thank the Lha's volunteer Mr. James Petersen who coordinated the fund and has provided a significant assistance to the great success of Lha's 5th clean water project in Tibetan refugee community.
Read 1221 times