Lha's 15th and 16th Massage Course
Lha understands the growing number of unemployment challenges in our community. That is why one of our prime objectives is to give vocational training to local people so that they can start their own business and generate new job opportunities.
In April 2013, Lha once again initiated the 15th and 16th massage courses with the help of a certified massage therapist and instructor, Laurie Proscia.
With Laurie's efforts and Lha's initiative, we now proudly announce that we completed our 15th and 16th massage courses. We certified nine students in the 15th massage course.  They completed their 45-hour training programme in therapeutic, chair, and Swedish massage, as well as in bio-mechanics, exercises, and stretches. We also certified seven former and new students in the 16th advanced massage course.
Lha now has both male and female therapists offering a combination of Swedish and remedial massage using traditional Tibetan healing oils. Lha certified massage therapists now work in the community and are available to see new clients. For contact information for individual therapists or for more information on classes, contact the Lha office.
Why does Lha continue to give massage courses?  It is because we understand the importance of massage as a healing therapy that reduces muscle pain and stress. In addition, it promotes the connection of mind, body, and spirit for enhancing well-being and health. This is particularly important in today's high-stress world.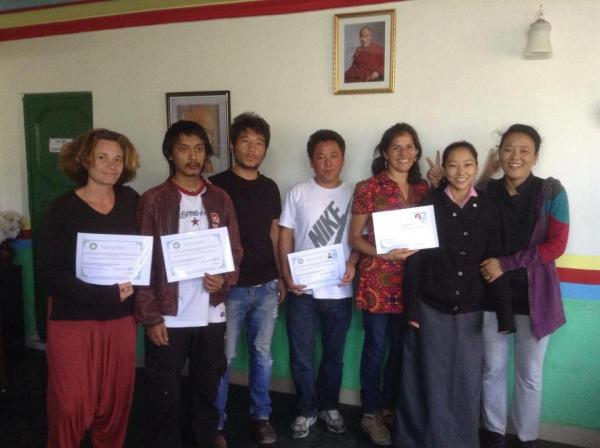 Our volunteer massage instructor, Laurie Proscia, is a very kind, experienced, dedicated, and certified massage, neuromuscular, and fitness therapist. She studied massage at the Colorado Institute of Massage Therapy and has practiced massage for 11 years. She has B.S. in Kinesiology from San Jose State University and currently resides in Santa Cruz, California.
Lastly, Lha is thankful to everyone in the past, present and—hopefully—future who chooses to spend their valuable time giving lessons and promoting understanding about the situation in Tibet. We are deeply grateful. Special thanks to our massage course Instructor Ms. Laurie Proscia who was very dedicated and made possible these two training sessions.
Read 1239 times