Lha's HIV/AIDS Awareness Talk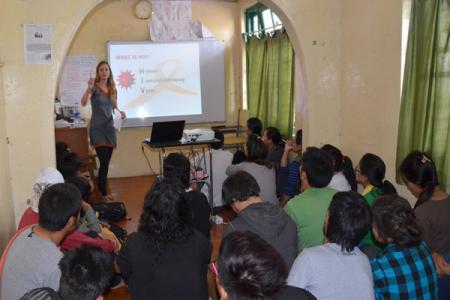 On 16th May 2014, the Lha Charitable Trust conducted an awareness talk on HIV/AIDS for the adult students of the Lha language classes. More than 40 students participated in the talk and the question and answer session that followed.
Lha distributed brochures on HIV/AIDS both in English and Tibetan, with a Hindi translation soon to come. HIV/AIDS is a serious issue in Dharamsala, both as an illness and as a source of discrimination.
In order to reduce the stigmatization and discrimination of those living with HIV/AIDS, Lha is working hard to create awareness of the disease. 
There are few NGOs in Dharamsala raising awareness of HIV/AIDS, and as a result Lha plans to conduct more workshops on HIV/AIDS in the community, some with a special emphasis on counseling for those living with or recently diagnosed with the disease.
The Lha Charitable Trust is committed to improving the health care and education of the Dharamsala community. Lha has appointed an Environment and Health Officer to take up major healthcare initiatives, and has put special emphasis on increasing HIV/AIDS awareness in 2014.
We would like to extend our deepest appreciation to Jade Conlon for giving the talk and to Scott Stevenson for helping to create the brochure. Lha thanks all of its supporters and the volunteers who have contributed to this awareness project.