Lha's 13th Clean Water Project
Lha has successfully installed its 13th Reverse Osmosis (RO) Water Purification System as a part of its Clean Water Project on 13th May at Government College of Teachers Education in Dharamsala.
Government College of Teacher Education (GCTE) Dharamsala was founded in October 1956 to meet the growing demand for trained middle and secondary school teachers.
It was affiliated with the Punjab University Chandigarh, but after the reorganization of states in India and the creation of Himachal Pradesh, the College was affiliated with Himachal Pradesh University (HPU) Shimla, a co-educational institution catering to the needs of pre-service and in-service teacher-trainees only. This water filtration system was installed through Rotary Club of Dharamsala benefiting more than 300 students and 50 faculty and staff of the college.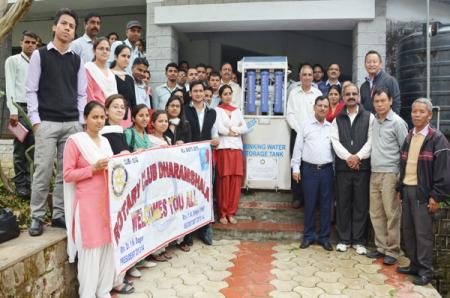 The filter is an RO+UV+ UF and TTS, considered one of the best filtered water systems available in the area. It will provide more than 100 litres of safe drinking water per hour to the students, faculty and staff of the schools. The filtration system includes a stainless steel tank with a 500 litre holding capacity.
We hope that this water purification system will help to alleviate major waterborne illnesses like typhoid and cholera that residents commonly suffer from in this region, especially during the monsoon season. We believe that this will contribute in maintaining a high level of general health among the students.
Lha, on the behalf of the students and staff of the Government College of Teachers Education, would like to extend our deepest appreciation to Mike Emanaker, a former volunteer with Lha and the fundraiser of the 13th water filter project.
We also would like to thank the Employees and Friends of Valley View Hospital, Colorado, U.S.A who sponsored this project, benefitting both local and Tibetans in exile. This water filtration system is the third of five that Lha plans to install in the state this year.